First home buyer numbers hit a new 12 year low
The housing finance data for July 2016 was released on the 09th of September 2016 by the Australian Bureau of Statistics (ABS). The report showed that the number of first home buyer commitments as a percentage of total owner occupied housing finance commitments fell to 14.1% from 14.3% in June 2016. On a like-for-like basis (adjusting for seasonal factors) there was no improvement either, with a significant drop from 15.7% in July 2015 to 14.1% in July 2016.
In real terms, there were only 7,586 first home buyers recorded in July 2016, which compares with 8,900 recorded at the same time last year.
Proportion of first home buyers has been dropping consistently over the last 12 months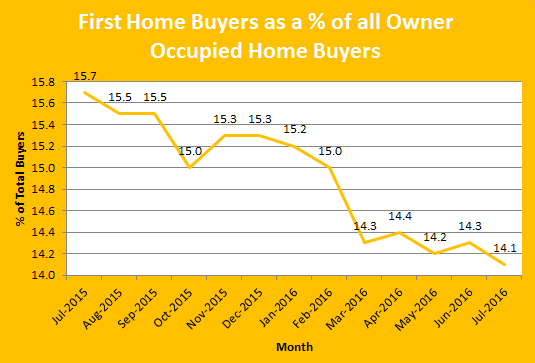 Proportion has dropped from 15.7% to 14.1% over a period of 12 months. Source www.abs.gov.au
"First-home buyers continue to be squeezed out" said FHBA co-founder Daniel Cohen. "The fact that this is the lowest figure for 12 years is very concerning. Expert commentary and economist's say's it comes down to a number of factors, including not enough supply, low interest rates fueling investor activity and the current Government policy mix favouring investors over first home buyers" Daniel said.
It is fair to say that the Coalition Government has contributed to the worsening of the housing affordability crisis in recent times say's fellow FHBA co-founder Taj Singh. "Rather than implementing policies to stop the sharp decline in first home buyer numbers, the Government has ignored the issue. With the Coalition Government forming a majority Government again, we are deeply concerned about the lack of initiatives announced by the Turnbull Government on this serious issue and the future under the Coalition Government's term".
Average first home buyer loans increase in 7 out of 8 States/Territories from June 2016 to July 2016
NSW – Up 0.9% from $389,700 to $393,400
VIC – Down -0.4% from $347,700 to $346,300
QLD – Up 0.4% from $295,100 to $296,200
SA – Up 0.9% from $268,800 to $271,100
WA – Up 0.9% from $312,900 to $315,800
TAS – Up 2.6% from $238,800 to $245,100
NT – Up 1.0% from $286,300 to $289,100
ACT – Up 0.7% from $331,500 to $333,800
NATIONAL – Up 0.2% from $335,000 to $335,600
With auction clearance rates and the property market showing signs of heating up as the Spring period starts again, all states/territories except Victoria have recorded increases in the size of the average first home buyer loan. This shows that first home buyers are borrowing more in order to achieve the Great Australian Dream of home ownership.
While Victoria's average first home buyer loan size decreased this time around, Victoria's slight decrease in the average home loan maybe due to the large 6.6% jump recorded in June 2016 (which was the biggest month to month increase on record).
Surprisingly, Tasmania's average first home buyer loan size is now up 15% from this time last year. This may be due to the generous first home buyer incentives available in Tasmania and a generally healthier property market giving first home buyers confidence to purchase their first home.
[ARForms id=182]
Related Articles: