FHBA Weekly Market Update: Spring starts strong
Spring kicks off very strong
The first week of Spring has seen the highest preliminary auction clearance rate of the year, with the CoreLogic RP Data's preliminary rate coming in at 78%. While total auctions actually being held are down, experts are advising there are plenty of buyers about competing for the properties that are on the market.
How did my city go?
Based on the preliminary data, here is how our 5 largest capital cities performed: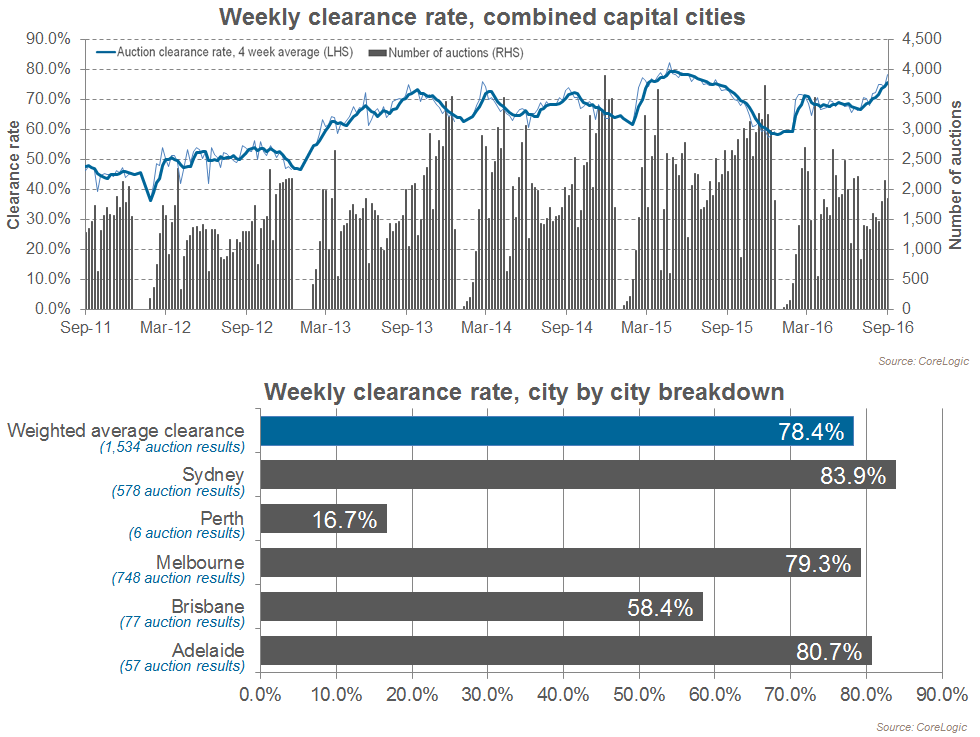 Source: CoreLogic RP Data
Key things to note about this weeks results include:
The clearance rates for the 5 major capital cities all increased on last week's results, except for Perth, which fell to just 17%
While Sydney & Melbourne have been consistently strong lately, Brisbane & Adelaide experienced significant increases in their auction clearance rates this week
Auctions are not a popular selling method in Perth, so be careful not read to much into their result!
FHBA co-founder Taj Singh said it will be interesting to see if the selling volumes increase now that the election is over and things are returning to 'normal'.  "It is a challenging market for first home buyers. All you can do is try your best, do your homework, be prepared, ask for help if you need it and most importantly, always stick to your budget".
To read the full CoreLogic blog report with the latest auction results please click here.
More housing supply not enough
Today Sydney Morning Herald (SMH) reported that some leading economists have found evidence that increasing housing supply doesn't solve housing affordability on it's own (or even stabilise prices). "House prices have risen by 40% since 2011 while dwelling completions have ballooned by 85%" SMH reported.
There are still more buyers in the market then there is supply. Though much of the buying demand is coming from investors. Expert Dr Tim Williams told SMH "homes are unaffordable not because we are building too few but because the market is flooded with cheap credit".
Read the full article on this analysis in the Sydney Morning Herald.
"New supply is only 2% of the total market – most of us buy established"
Some first home buyers are using the help of parents
Some first home buyers are getting help from their parents to enter the housing market. While not everyone can get this type of help (some parents can't afford to help, while others simply choose not to) for those who are fortunate enough to hear the words from Mum and Dad that they want to help, there are several options you can discuss with them. The key options were explored by Taj Singh in a two part blog series last week:
Rates Update
Tomorrow the RBA board meets to again review the cash rate (which is currently just 1.5%). According to market betting odds the tip is that rates will stay on hold. We will provide you with a full report on the RBA decision tomorrow.
Written By,
First Home Buyers Australia
Helpful Links: