FHBA Market Update: Auction clearance rates remain high
Auction clearance rates remain high
Despite an increase in auctions held around the country during the weekend (September 24 – 25), according to CoreLogic RP Data the headline preliminary auction clearance rate remained high, coming in at 78%. This is the 9th consecutive week the national auction clearance rate has been above 70%.
How did my city go?
Based on the preliminary data, here is how the nation's 5 largest capital cities performed: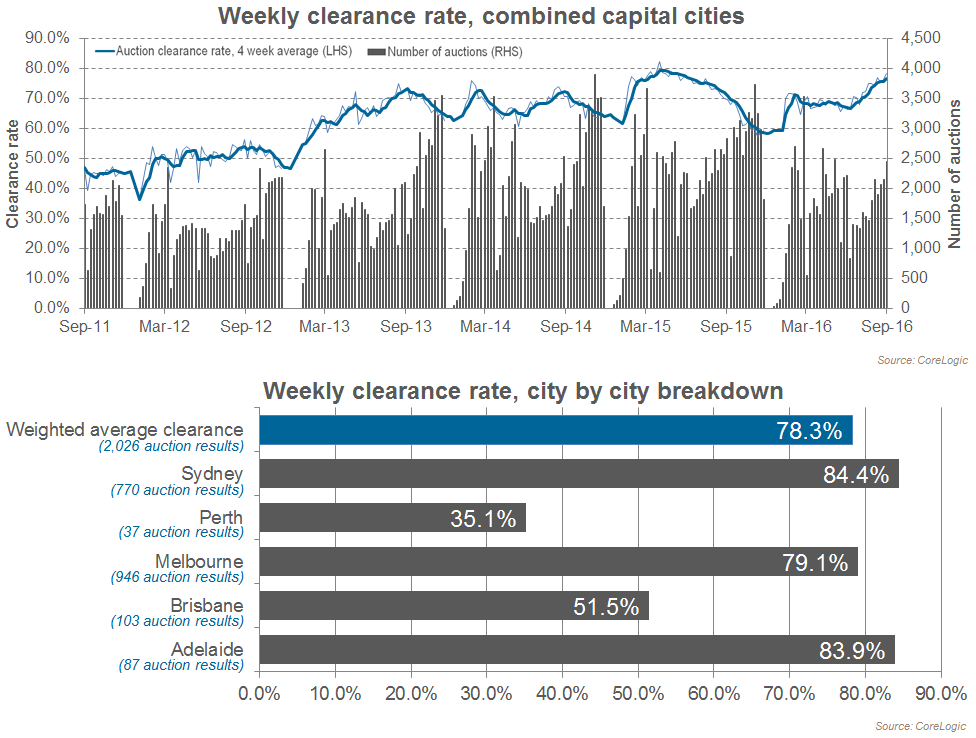 Source: CoreLogic RP Data
Key things to note about this weeks results in include:
All of the key capital cities had similar results this week, in comparison to last week, except for Adelaide, which had an increase to 84% (up from last week's result of 75% and up from 68% recorded during the same week last year)
In Queensland, the auction clearance rate was higher in Gold Coast than Brisbane
In NSW, the central coast region achieved a 100% preliminary auction clearance rate
Please note, all figures are preliminary and are subject to change as more results come during the week.
FHBA co-founder Taj Singh said "this weekend is the long weekend plus the footy grand finals, so the total amount of both open homes and auctions will be lower. Conditions could be quite different to usual, but if you are a first home buyer, you should still be active this weekend, as you never know when a good deal could present itself, while others are busy relaxing and enjoying the long weekend".
To read the full CoreLogic blog report, including results from other areas such as the Canberra, Gold Coast, and Hobart, please click here.
More housing is coming…. but it's mainly units
In July 2016 capital cities dwelling approvals (approvals to build new housing) came in at 17,380, the highest since July 2016, according to the Australian Bureau of Statistics. The trend of more unit approvals over housing approvals continued:
6,482 houses approved
10,898 units approved
FHBA co-founder Daniel Cohen said "we hope the Government and developers are seeing the need to build the new housing at the affordable end of the market. First home buyers looking for Grant eligible homes would in particular find this useful".

New housing approvals rose in July. Source: CoreLogic RP Data
To see where the new dwellings will be built please visit CoreLogic RP Data
To explore current first home buyer property opportunities please visit FHBA New Homes
First home buyers fear future home loan repayments
A new national survey has found that first home buyers not only fear how they will put a big enough deposit together, but also, how they will afford the ongoing home loan repayments.
First home buyer success story of the week
Our favourite first home buyer story in the papers this week was a successful first home buyer in Gladstone Park, Victoria. The first home buyer purchased a 3 bedroom house at auction for $490,000 by bidding all other potential buyers.
To read the full story please visit the Leader Community News.
Helpful Links: