FHBA welcomes Treasurer's comments but is it enough?
In a lunchtime speech today the Federal Treasurer, Scott Morrison will attempt to address soaring Australian house prices (mainly in NSW & VIC) by pushing State Governments to release more land, and remove certain regulations to encourage more building, and therefore supply. Morrison also conceded that the housing market was 'getting away from people' and that it was almost impossible for single income households to enter the property market at the moment,
The Co-Founders of FHBA Daniel Cohen & Taj Singh both lauded Morrison and welcomed the fact that housing affordability was finally raised as a serious economic issue that is only getting worse, regardless of how hard an aspiring first home buyer works or saves. Daniel Cohen said "It is comforting to see Treasurer Morrison concede that the Great Australia Dream is getting away from young Australian's and that action needs to be taken in order to prevent it from just remaining a 'dream' and something that is not achievable for aspiring first home buyers". Taj Singh added "Increasing supply will definitely have an impact on improving housing affordability however, I feel there are wider underlying issues that are keeping young Australians out of the property market."
FHBA Co-Founders Daniel & Taj welcome the planning, however there is a lot more that needs to be done
FHBA Co-Founders explore what needs to be done to address housing affordability below, as increasing housing supply alone won't solve the challenges faced by first home buyers:
Lack of Urgency
It has been almost 6 months since the Federal Election outcome was decided. Despite the issue of Housing Affordability being high on the Coalition's agenda, it hasn't been dealt with swiftly. Previous comments by Malcolm Turnbull and Scott Morrison have actually contradicted the announcement they made in regards to housing affordability. We feel that only pressure by young Australian's and other organisations led to the Federal Government finally acting on Housing Affordability.
When will first home buyers see the benefits
We all know that Local, State & Federal Government's take a long time to enact policies that have been proposed. To improve housing affordability it will require co-operation from all levels of Government, it is difficult to see an appropriate agreement being made between them due to constraints such as funding & differences in regulation. As a result, it may be years or decades before the benefits of an increase in housing supply filter through to making housing more affordable for aspiring first home buyers.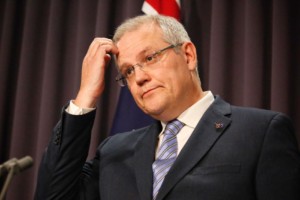 Photo Credit: www.abc.net.au
What about Foreign Investors?
As the current laws allow foreign investors to purchase 'new' property, does Morrison & Government have any proposed policies to ensure that the increase in supply is not bought by Foreign Investors? At this stage, we don't think the Government has any plans in place to tackle the foreign investment problem. How is the Government going to tackle the issue of foreign investors leaving their investments empty? This should be a relatively easy fix for the Federal Government (as easy as changing Foreign Investment laws). In addition, the migration laws don't help, whilst a growing population is a positive for Australia, some of the increase in supply will be bought by migrants moving to Australia.
Is the boost in supply really going to make things affordable?
With land prices costing over $1,000 per SQM in some outer suburbs of Sydney & Melbourne will the new housing supply be priced appropriately? Land prices have soared in the last few years not only because of the lack of supply, but also because of the infrastructure and facilities that large developers are building in the new estates, these are being passed onto the buyers in the form of higher land costs. We will like to see how Morrison plans to make it more affordable, we are hoping they don't simply just say 'Buy a smaller lot within your budget' because these usually don't have enough room for a backyard.
Will the cost of building a home be affected? The cost of building a home has also soared over the last decade and with a shortage of construction workers in some areas, will the cost of building a home be impacted by the Government's policy? We don't think so, in fact it may go up as there will be more demand for construction of new homes and not enough labor in the construction industry.
Will Apartments be built so they are more affordable for entry-level property buyers? Most developers are targeting foreign investors with their premium/up-market developments, and we can't blame them because current 'Foreign Investment Laws' allow them to market their developments to foreign investors as they run a business to make a profit.
The biggest issue for first home buyers won't be solved by increasing supply
The challenge of 'Saving for a deposit & for the associated costs of buying a home' is consistently ignored by Morrison & the Federal Government. Morrison has clearly stated that property is not overvalued in some pockets of Australia and that an increase in supply will reduce the growth in property prices over time. Does he know that first home buyers need a deposit to buy their first home? Low-interest rates combined with rising house prices, subdued growth in incomes and a lack of incentives available to first home savers makes saving for your first home a very tough job. If investors can take advantage of tax concessions by owning multiple investment properties, why can't aspiring first home buyers receive assistance (which will cost less to the Government bottom line, than negative gearing) through the return of an enhanced version of a First Home Savers Account, which makes saving for a home more attractive and helps the first home buyers reach their deposit goals sooner.
What about Stamp Duty? Morrison should really be working with the State Government's to reduce the upfront cost of Stamp Duty specifically for first home buyers. At the moment most states have a threshold limit for Stamp Duty concessions, the thresholds are outdated (e.g. in NSW & VIC the thresholds are below the median, figure that) and Stamp Duty concessions are only available on new homes (in most states). Treasurer Morrison has the chance to bring Stamp Duty reform to the table, or if the State Government's don't budge then consider partially or fully funding the stamp duty costs for first home buyers.